When you look for your next chuck, have a look the chuck with the best reviews, machined and hand assembled from K1045 Steel in the Vicmarc factory to exacting standards. The chucks are machined to exacting tolerances and fits better than your gloves.
You want variety, Vicmarc has variety, 3 sizes of Dovetail chucks, 3 different versions to go from basic to extravagant off-center and off Z-axis turning. Let your imagination run wild. Last but not least, we have a Pen Blank Chuck so you can precisely drill your pen & razor blanks or other similar blanks right down the centre.
If that is not enough variety for you check out our wide selection of jaws to accessorize your chuck, your way.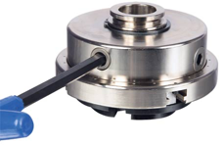 Please see a list of available products below. If you are looking for something specific that you don't see here, please don't hesitate to
contact us
and we'll be sure to find what you are looking for.